New Collaboration
I recently met MartyWillson-Piper and am so excited to be collaborating with him! Marty is an accomplished guitarist and singer-songwriter probably best known as the original guitarist for the Australian rock band The Church.  You know, Under the Milky Way, Reptile, Metropolis, Almost With You, etc.etc. 
If you look closely at the image you'll see Marty on my computer screen. Marty is from the UK, but now lives in Portugal.  We currently collaborating virtually in a long distance relationship.  Hopefully we'll see a post COVID world and resume "normal" life, concerts, travel and be able to meet in person in the not too distant future.
Last, but not least, Marty's new band MOAT just released a fantastic album titled Poison Stream.  Check them out!
Album Release Parties in New York City & Minnesota
Fieldhouse/BMG
We're very happy to announce that Fred has signed with Fieldhouse/BMG!  Fred is very excited about the new creative prospects this signing opens up for him.Fieldhouse is a division of BMG that specializes in providing original music for film and television soundtracks.  It's a great opportunity for a studio workhorse like Fred, whose music now has a new audience of music supervisors, editors, directors, and advertising agencies.
Annual Thanksgiving Eve Concert - Florida, NY 2018
Another special Thanksgiving eve with Rob Cannillo & Friends
Still Alive - Album Release Party NYC 11/2017
Singer/songwriter and Fieldhouse recording artist Fred Argir is releasing Still Alive, his sixth album in eight years. Still Alive maintains the alternative rock focus of Argir's previous albums, and incorporates heavier blues elements to make this his most guitar-focused album yet. 
This focus is particularly evident in the guitar solos. "The End," for example, has an absolutely blistering one that wouldn't sound out of place in a Stone Temple Pilots song. The same can be said of the album's title track, as well as "Preachers In the Square," both of which have a swirling, layered guitar sound with an obvious blues influence and an almost neo-psychedelic feel, again echoing Stone Temple Pilots. This can be said of the album as a whole, and whether you're new to Argir's music or already a fan, you'll be impressed by his mastery of this style. 
Along with Argir's solid guitar work, the drums on Still Here are worthy of much praise. While Argir plays virtually every other instrument you'll hear on this album, the live drumming comes courtesy of Derek Abrams, aka the current drummer for Ministry. Consequently, there's a bigger and more obvious drum sound here than Argir's previous work, albeit one that never overwhelms the mix. 
To celebrate the release of Still Here, Argir will be throwing an album release party on Tuesday, November 14th at the Bitter End in NYC's West Village.  Fred will be joined by special guests B'Anka Brown and Rob Cannillo.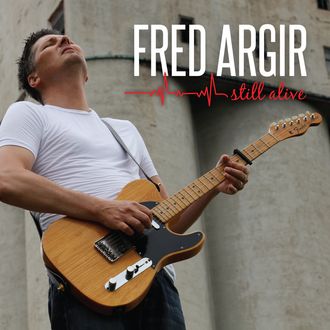 The Bitter End 
147 Bleecker Street 
b/t Thompson & Laguardia 
New York City, NY 
Doors 5:30 | Music 6:00 | Cover $10
Thanksgiving Eve Barn Concert 11.22.2017
June 24, 2017 Tune into WNTI Internet Radio
June 22, 2017 Rob Cannillo's Barn Concert
Concert to End Homelessness April 29th, 2017
Thursday, January 26th Leftfield on Ludlow
Friday, January 20th @ the Sherman Theater
Singer/Songwriters Unite Friday, December 9th
The Delancey, NYC - Saturday, January 14th
Thanksgiving Eve Barn Concert
Cabin Concert October 15th
Unglued Released August 2016
And Then There's You Released October 2013
Worlds of Secret Lives Review
Worlds of Secret Lives Released December 2012
Before I Disappear Video 10.03.2012
Fred Argir "Run" Video 12.18.2011
Radio Broadcast 02.20.2011
Lost in Mayhem Released November 2011
Lost Souls Video Premier 01.13.2011
Lost Souls CD Release 10.20.2010